Biography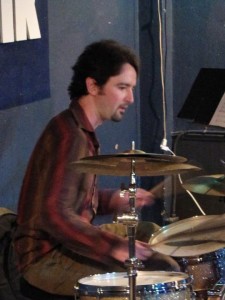 Drummer Tom Goicoechea was born in 1984 in Elko, Nevada where he attended Elko High School and played in the High School Marching Band, Pep Band, Wind-Ensemble, and Jazz Band. He then received a scholarship to attend Loyola University of New Orleans College of Music and Fine Arts, where he graduated in the Spring of '07 with honors and a Bachelor of Music, emphasis in Jazz Studies, magna cum Laude and a minor in Philosophy.
While attending the University, he played in a variety of university small jazz combos, and was lead drummer in the "1 o'clock" Loyola Jazz Band. He also studied under renowned jazz drummer and teacher Johnny Vidacovich. During the semester following Katrina, Tom attended University of Nevada, Reno, where he held a residency for weekly university jazz jam sessions and studied under saxophonist Peter Epstein. Throughout his eight years living in New Orleans, Tom Goicoechea played in numerous bands outside of the university setting covering an array of styles from small group jazz to funk to rock n' roll. During this time he was lucky enough to support such artists as Aaron Neville, Delfeayo Marsalis, Brian Seeger, Papa Mali and others. He has played in such venues as the House of Blues New Orleans, Tipitinas, Snug Harbor and Jimmy Mak's in Portland. In December of 2010, Tom Goicoechea completed a Master's degree in jazz studies at the University of New Orleans, where he learned from drum greats Troy Davis and Jason Marsalis. He also taught drumming at UNO and away from the school every summer at the Great Basin Jazz Camp in Idaho, where he is fortunate enough to teach and play with such jazz greats as trumpeter Carl Saunders, and guitar virtuoso Bruce Forman.
In the spring of 2011, Goicoechea moved to Portland, where he currently resides. He is involved in the Portland music community in a variety of ways, including teaching for Portland Community College and Mt. Hood Community College. He performs with various jazz ensembles, including his own group, The Eugetet, the new collective Gunga Galunga, and the Portland Jazz Composer's Ensemble. He also drums for R&B/Soul singer Jenni Wren, and can sometimes be found touring the world with NYC based swing rocker Izzy and the Catastrophics or with the retro show group Under the Streetlamp.